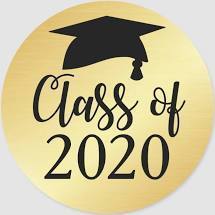 Updated Information Regarding Class of 2020 Graduation Ceremony
From the Superintendent and School Board
Thursday, May 07, 2020
Marion County High School Graduation Ceremony Information
Weather Permitting!
Please read carefully.
After much thought and consideration, as well as parental and student input, the Marion County Board of Education, Superintendent, Principals, and other administrators have decided to alter plans for the Marion County High School 2020 Graduation. The school system will honor its graduates with a physical ceremony at the school campus on Saturday, May 23. The Seniors of 2020 will have the opportunity to 'walk' across the graduation stage of Eagle Field in a modified-traditional format that is SAFE and minimizes contact.
Pictures and videos of each senior will be taken during the ceremony and will be viewable on YouTube after editing.
Seniors should plan to inform school personnel on May 14 when they pick up caps, gowns, etc. whether or not they plan to participate in the ceremony. Those who choose to participate must adhere to the following guidelines:
Seniors must arrive ten minutes before their specific time slot and must be dressed in cap and gown as specified below.
No more than 4 people may accompany the Senior onto the field. Additional guests must remain in the car. Only one car per Senior is allowed.
Park in the designated lot at your specified time. You will be notified by school personnel where to park and when to exit your car. You will then enter the field through the back gate beside the field house.
If you arrive a few minutes early, you should park in the student parking lot until time to move to your designated parking area. Please try to be 10 minutes early.
Once the Senior and his/her guests (4 max) enter the field, the guests will be directed to a designated standing area on the field. The Senior will proceed to the stage steps and wait for his/her name to be called over the PA system. He/she will then walk across the stage and pick up a diploma cover from the table on stage. (Note: the Senior will have already received his/her actual diploma on May 14 when he/she picks up caps and gowns, etc.)
Pictures and video may be taken at this time. The school will provide a photographer to take a photo of each Senior receiving a diploma. The Senior will be notified when the photo is available for purchase. A family picture can be taken immediately after, and then you will need to exit the field using the designated gate.
Faculty, staff, and sheriff's deputies will be on hand to assist you and to make sure this runs smoothly.
Please do not distract, play loud music, honk horns, etc. However, painted car windows are encouraged!

Group 1(Green lot): 9:00 a.m.
Dakoda Lynn Mincey
John Curtis Pollock
Jacob Tanner Watson
Parker Andrew Satterwhite
Mahek Pravin Patel
Rebecca Amelia Golden
Andrea Madeline McCarter
Carolann Gazelle-Marie Funkhouser
Taylor Denise Green
Autumn Taylor Daniels
Lucius King Long
Eboni Marie Franklin
Kyrie Allayha Crossley
Garrett Brookins Sheffield
Na'Kia Denise Tymes
Bryan Jasper Sales
Cameron Lucas Ogan
Febbie Lashae King
Nicole Kimberly Prados
Kem Kameron Tyler
Group 2 (Yellow lot): 9:30 a.m.
Dylan James Scott
Joslyn Elise Robison
Jokoshia Lanae' Wimbush
Madison Leigh Murray
Britney Marie Foster
Kayla Dawn Atcheson
Jordan Hope Bryan
Timothy Raven Dixon
Ja'Meshia Tykeria Williams
Debra Leanna Daysie Lumpkin
Gabrielle Elise Respess
Alexis Berlin Crimes
Kimberly Vicente-Sontay
Shaniya Keyanna Battle
Whitney Alexis Swan
Kendrick La'Mar Hawkins
Lacy Marie Rushing
Iiyasha Sha'bazz Minion
Dayterious RyColeman Chinn
Beverly Jessica Romero-Gonzalez
Ouida Faith Preston
Group 3 (Pink lot): 10:00 a.m.
Beverly Alizabeth Powell
Armando Contreras
Megan Lanae Biddle
Damion Dakarai Titow
Kalyiah Quanterria Bryant
Fredkeem Judson Alridge
Brian Nguyen
Anthony David Garcia
Sierra Nichole Albritton
Keyona Jadee Bell
Katelin Marie Bloodworth
Devon Alexander Briggs
Tyleak Antoine Broadaway
Ta'Kevia Acashia Brown
Lawrence Edward Crowell, Jr.
Jessie Leon Davis
Colby Alexander Diaz
Group 4 (Yellow lot): 10:30 a.m.
Roderick Jericho Dixon
Coby David Easton
Jarvis Tyrell Evans
Jonathan Ray Garrett
Angelique Christine Hannagan
Kedarian Ty'Ron Harvey
Spencer Lee Hemingway
Travia Shontrae Hill
Anthony Bryce Houston-Dye
Prentiss Layne Hudson
Koleon Jamil King
Tyus Kwentez Lowe
Trice Clayton McCannon
Lillie Rose McCorkle
Madison Brooke McLeod
Joshua Caleb Minard
Juan Carlos Ortega-Padilla
Group 5 (Pink lot): 11:00 a.m.
Rebekah Leigh Pyles
Jose Ramirez-Hernandez
Wyatt Edward Reynolds
Jesse Michael Robertson
Diamond Nicole Robinson
Amelia Ana Gracelia Rodriguez
Ronald Franklin Romero-Romero
Gavyn Sebastian Reese Stephens
Brandon Marquise Thomas
Dakota Lamar Thomason
Johnny Ray Walker
Amber Breanna Waycaster
Eric Bernard West, Jr.
Arcadian Rose White
Adrian Levant White
*What do I wear under my cap and gown?
Please remember…this is a uniform. You should all look alike. No distractions! You should wear all collars, stoles, cords, and medallions with your cap and gown. Scholars Academy collars go underneath the honor stole. Please have your tassel turned to the left.
Males
White dress shirt, black slacks, solid black tie (no bowties!), black shoes, and black socks
No necklaces or any other items of jewelry/adornment are allowed outside the shirt. Only petite earrings are acceptable. No other visible piercings allowed.
Females
Any color dress or skirt (shorter than your gown)
Black low-heeled shoes or wedges (not flip-flops)
Petite jewelry only, and no other visible piercings allowed!
Honor graduates—Red gowns will not hide dark colors or "loud" prints.
NOTES:
All school personnel will be wearing masks and gloves; the wearing of masks and gloves by Seniors and their guests is left up to personal discretion.
Weather permitting: If there is light rain, this ceremony will continue as scheduled. Heavy rain/storms would cause the ceremony to be postponed until Sunday or Monday. The ceremony will not be moved inside.
WTVM/WXTX will also air a separate, virtual tribute to our graduates at a time TBA.