INTERNATIONAL DOT DAY 2021 at L. K. MOSS On September 15, 2003, author and illustrator of children's books, Peter H. Reynolds released his book "The Dot." One teacher in Iowa, Terry Shay, introduced the book to his entire classroom on September 15, 2009. This led to the observance of International Dot Day every year on September 15. International Dot Day is celebrated by adults and children to boost their courage so that their creative potential is released. It is a great day to connect and collaborate, and to celebrate self-expression. 'Make your mark' and see where it takes you on International Dot Day on Wednesday, September 15th. "WEAR CLOTHES WITH DOTS ON THEM THAT DAY."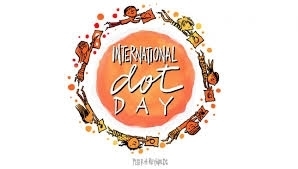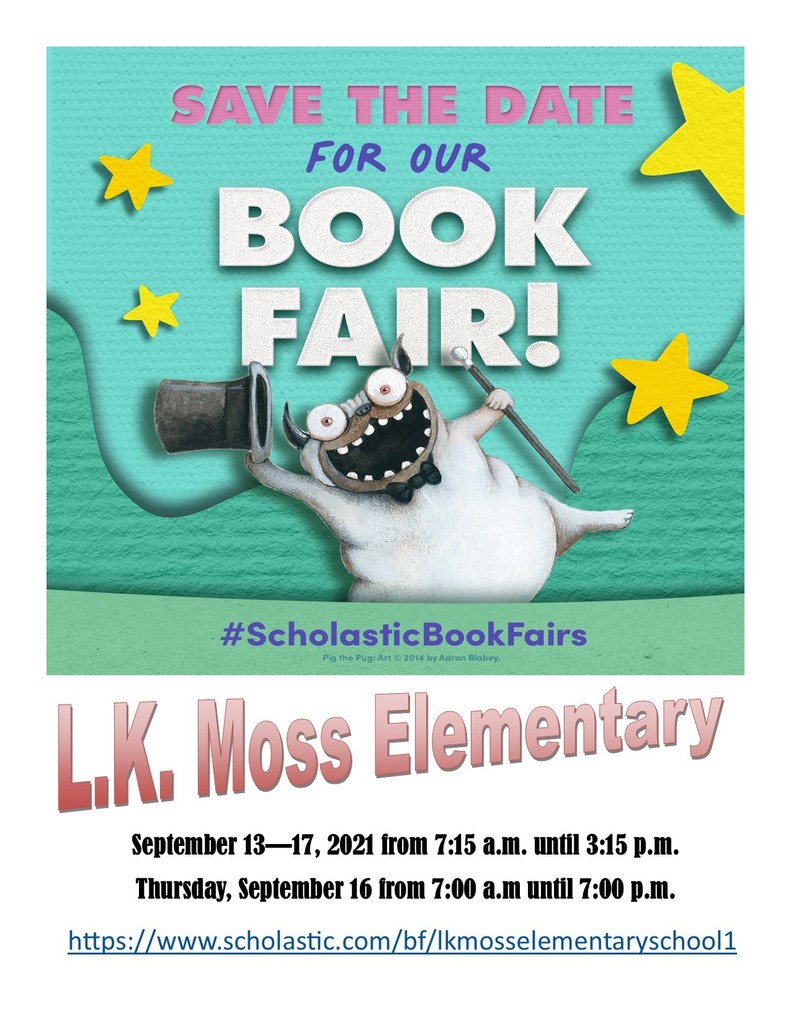 BOOK FAIR WEEK: September 13th-17th

SCHOOL HOLIDAYS: Friday, September 3rd – Monday, September 6th, 2021.

LK Moss Elementary School will conduct hearing and vision screening to students in Kindergarten thru 3rd grade on Monday, September 20th.

FALL PICTURE DAY: Thursday, August 26th. HELP-A-CHILD Smile :) will be on campus Wednesday, September 1st. SCHOOL HOLIDAYS: Friday, September 3 – Monday, September 6, 2021.

The Character Education Word for the week is "RESPECT FOR OTHERS".

Book Fair Sept. 13 - 17th. More information will be coming home with the students later this week.

The Character Education Word for the week is "RESPECT FOR TEACHERS"

PARENTS: Just a Reminder – school starts @ 7:30 am. The tardy bell rings @ 7:45 am. Students can be dropped off as early as 7:15 am whereas they will be redirect to the cafeteria until 7:30 am. Car riders begins @ 2:35 pm and buses depart @ 3:00 pm. If you need to check out your student/s early, please try to check them out by 2:30 pm before car riders begin. Also when checking them out, please bring in your state issued ID or Driver's License. Any transportation changes need to be a note brought by the student/s or email a note to the transportation email before 2:00 pm. The transportation email is
lkmoss.transportation@marion.k12.ga.us
.

The Character Education Word for the week is "RESPECT FOR SELF.

From the Desk of the Mrs. Holmes: Dear LK Moss Families, Welcome to the 2021 - 2022 school year! I am thrilled to welcome you back to school. It is truly an honor for me to be the Principal of LK Moss Elementary School. I am privileged to work with an outstanding staff to make it a smooth transition for our students. We are excited to work closely with you to ensure the success and well-being of all of our students. We have been working hard all summer to plan for a safe opening of school and to implement best practices to lessen the risks associated with the Covid-19 pandemic. Our classrooms have been modified to increase social distancing, face masks are optional in the building, but mandatory on the buses. We've added touchless water fountains also to help ensure safety measures. LK Moss Elementary School is such a special place to learn and grow. We are proud of our beautiful school and have high expectations for each and every student. We emphasize for every student to be kind, compassionate, and inquisitive. Together with our dedicated staff, we strive to make connections with students to help them feel valued, accepted, and safe. We appreciate your support as you work with students at home to practice safety protocols such as wearing a mask and washing hands. We encourage families to stay connected and informed by following our district website for important updates and information regarding our school policies. We look forward to a great year!!! Our website:
https://www.marion.k12.ga.us


"ATTENTION PARENTS"– Friday, May 28 is the last day of school and EARLY RELEASE. Car riders will dismiss @ 11:45 am and buses will depart @ 12:00 pm. Please make sure that your child/ren will have someone to get him/her off the bus. The students will arrive at home three hours earlier on that day.

Parents/Guardians: We are getting close to the end of the school year. Please return laptops that were checked out to the front office at each school as soon as possible.

EMERGENCY BROADBAND BENEFIT CONSUMER: The EBB is a temporary FCC program to help families and households struggling to afford broadband internet service during the COVID-19 pandemic. Please see back of the newsletter for more info.

We currently have 2021-2022 PRE-Kindergarten registration openings available. For Pre-K, the child must be a Georgia Resident, but may be from any county within the state. Contact L.K. Moss Elementary School for any questions at 229-649-5567

GA MILESTONE TESTING: Tuesday, May 11th-4th grade ELA; Wednesday, May 12th-4th grade ELA; Thursday, May 13th- no testing; Friday, May 14th-5th grade Science. NO TESTING ON MONDAYS.

FIELD DAY: Due to our COVID policy pertaining to visitors on campus this school term, visitors ARE NOT allowed to visit during our field day activities. The dates for field day activities are as follows: Monday, May 24 Kindergarten-AM; 1st grade-PM Tuesday, May 25 4th grade-AM; 5th grade-PM Wednesday, May 26 2nd grade-AM; 3rd grade-PM LET THE FUN BEGIN!!!

We currently have 2021-2022 PRE-Kindergarten registration openings available. Please call the school for more information.