Dress up Days for Red Ribbon WEEK!!! October 24-28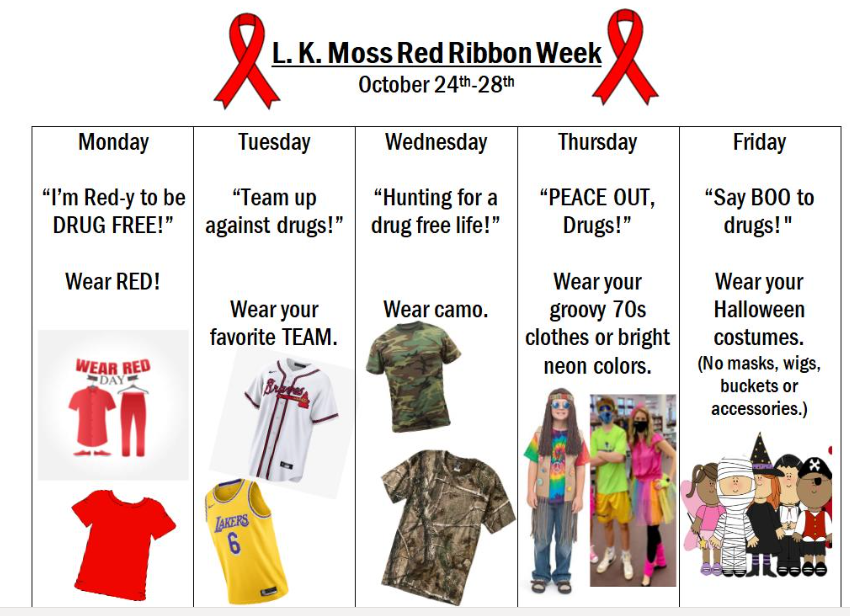 Monday Oct. 3 @ MCMHS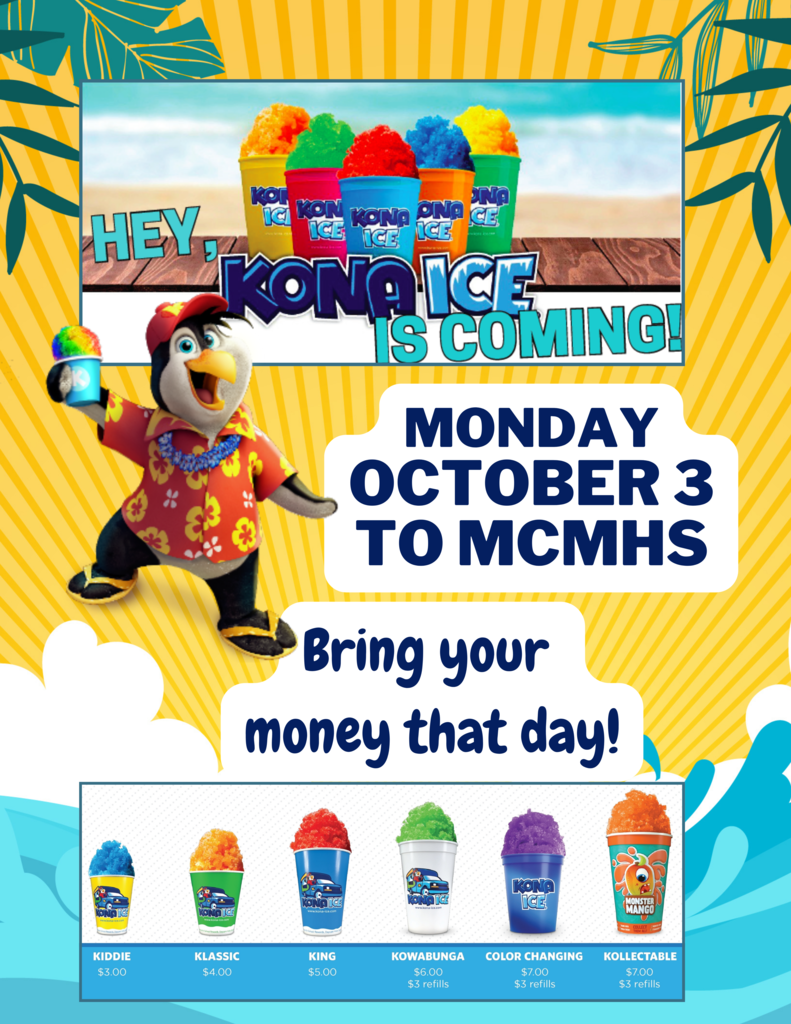 Dear Parents/Guardians, Due to a delivery delay, the book fair will begin on Tuesday, September 13, 2022. We do not anticipate it interfering with the grandparents' breakfast. If your child's class was scheduled to come on Monday, September 12, 2022, they will come Friday, September 16, 2022 during their exploratory time instead. Remember that we are also going to be here on Thursday, September 15, 2022, until 7 PM. Any student who comes to the book fair that evening will be given a book to promote literacy. Any parent who want to come to the book fair during the school day must check in to the front office and get a pass. Thank you for all of your support. Sincerely, LK Moss Media Center

The August 26, 2022 Boil Water Advisory has been lifted. As part of L. K. Moss Elementary School's Temporary Water Interruption Plan for Boil Water Advisory (MCMHS was not under the past advisory.), faculty and staff are continuing to take all precautions to keep our students and employees safe and healthy. When a boil water advisory is lifted, staff completes our post-advisory procedures. All procedures will be completed Tuesday afternoon and we will operate as normal Wednesday morning. If you have any questions or concerns, please contact the principal, Mrs. Loranda Holmes at (229) 649-5567.

Due to a water outage that we have just been made aware of, Marion County Schools will dismiss at 12:30. Buses will run at that time, and parents may begin picking up car riders at that time. Information was also sent out via Marion Alerts.

The Can You Cross Country 5K/Fun Run is this Friday at 7:00.

NOTICE The Marion County Board of Education will conduct a facilities tour on Monday, July 25, 2022 at 9:00 a.m. They will begin their tour at Marion County Middle/High School, 1 Eagle Drive, Buena Vista, Georgia.

NOTICE The regular meeting of the Marion County Board of Education scheduled for Tuesday, July 12, 2022 has been moved to Tuesday, July 19, 2022. The meeting will be held at 5:00 p.m. at the administrative office, 1697 Pineville Road, Buena Vista, Georgia.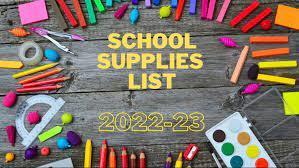 It's ALMOST Friday night in Marion County!! The Eagles have been working hard for the upcoming season. Eagle fans may purchase Reserved Seating and Parking beginning Wednesday, August 3rd. Prices for reserved seats will be $60 per seat. In addition to getting a great deal, this pass is valid for all JV and middle school games, plus the seat has back support. You may also purchase a parking space for $25 per space. Any seat not reserved is on a first-come, first-served basis with a regular game ticket. Regular ticket prices for the varsity football games is $10 (for ages 1st grade and up). For more information about Reserved Seating and Parking, contact Doris Daniel at Marion County Middle/High School. Thank you for your continued support of Marion County Football. GO EAGLES!

Due to water issues in the county, summer school will be held at LK Moss today for all students. Students have already been transported there. Parents of car riders may pick them up at LK Moss today.


NOTICE The Marion County Board of Education will hold their Whole Board Governance Training Wednesday, June 1, 2022, at 8:00 a.m. The training will be held at the administrative office, 1697 Pineville Rd., Buena Vista, GA.

The Marion County Board of Education will have a called meeting on Thursday, May 26, 2022 at 5:00 p.m. The purpose of this meeting is to discuss the FY2023 budget and related matters. Budget hearings will be Tuesday, June 7, 2022 at 5:00 p.m. and Tuesday, June 14, 2022 at 5:00 p.m. Adoption of the budget in its final form will be at a called meeting on Wednesday, June 22, 2022 at 5:00 p.m. The meetings will be held at the administrative office, 1697 Pineville Road, Buena Vista, Georgia. The proposed budget for FY2023 can be viewed on our website
www.marion.k12.ga.us
after June 7, 2022.

From the Yearbook Staff: We ordered the yearbooks that have been paid for, but we also ordered a few extra ones. If you still want one, please pay Donna Davis as soon as possible. From now on, it is on a first come, first serve basis.

Dear LK Parents: The Senior Class of LK Moss Elementary School will be hosting our Annual Honors Day Program, tomorrow, May 18,2022 at Marion Middle High School at 9AM. The program will take place in the Gymnasium. Parents may begin arriving at the middle high school gym at 8:30 AM. We are asking the students to wear their 5th grade shirt and jean bottoms. Students will be allowed to take pictures briefly after the program. We ask that you take your child's awards home with you so that they will not get lost or damaged while we continue the rest of our 5th grade activities. Students will then tour the middle school and enjoy a cook out lunch in the high school gym. The tour and lunch are NOT open to the public, parents will NOT join students for the tour or lunch inside the MCMHS building. Fifth graders will have their last field day at the MCMHS practice field after lunch. Please make sure your student brings: a towel, water/water bottle, sunscreen, and wear running shoes. Students will need to bring bottoms to change into after the Honors Day Program. We will return to LK Moss before the end of the school day. If you have any questions , please feel free to contact us. Sincerely, Fifth Grade Teachers

Atten LK Parents and Family. Kindergarten Graduation has been moved to the Marion Middle Highschool Gym at 9 A.M. Tuesday, May 17, 2022.

Congratulations to our Marion GMA Teams for winning State competition: K-2, 6-8 and 9-12 divisions!!

We are definitely ordering more yearbooks! There are still a very few books available for purchase. If you would like one, please give your $80 to Donna Davis by end of the day Tuesday, May 17th. They will come in by the end of the summer.

Atten: 5th Grade LKMoss Parents: Our Field Trip is on for Monday, May 9th. We will use the same permission slip for our trip. If your child will not be able to go on the trip Monday, please contact the school or your child's homeroom teacher ASAP. We will notify everyone on Classtag when we are on our way back to the drop off points. If your child wore the 5th grade shirt today, please wash it and all children need to wear them on Monday (9th). Same rules apply for Monday's trip: no cell phones, small backpack with 1 or 2 drinks(no soda) Make sure your child is at school on time Monday so they don't miss the trip. Enjoy your weekend. Happy Mother's Day!