I would like to wish everyone a safe and Happy Thanksgiving.

Don't forget about family STEAM night TOMORROW (Thursday, November 18th). It will be at L.K. Moss from 5-7 pm. There will be all sorts of fun activities for the whole family! Live animals, slime making, robots, a cake walk and more!Parents, Please be advised that on STEAM Night, the only entrances to the building will be through the main entrance (front office) and the bus ramp entrance. The fourth and fifth grade entrance (Achievement Hall) will be CLOSED. Thanking you in advance, Loranda Holmes Principal



Marion County Schools would like to take this opportunity to honor all military personnel. We are aware every day that Veterans and active duty military have made our country the great nation we call home. Although we can never repay you for your service to our country, at this time, we offer a wholehearted "thank you" for every moment you have spent away from your families to make all of our families safer. Thank you and always know, we appreciate your support.

Congratulations to Breanah Miller on her signing today with CVCC! We are proud of you! Keep up the good work!

NOTICE CALLED MEETING MARION COUNTY BOARD OF EDUCATION The Marion County Board of Education will hold a called meeting Thursday, November 18, 2021 at 5:00 pm. The meeting will be held at the administrative office, 1697 Pineville Rd., Buena Vista, GA. The purpose of this meeting is to discuss and take action regarding personnel.

L.K. Moss Fall Picture Re-takes Tuesday, November 9, 2021

Good Luck to Summer Starr and Ian Williams at the Cross Country State Championship Run tomorrow in Carrollton.
Eagle Fans! We are excited to announce that we will be livestreaming our basketball games this season. Just go to
www.nfhsnetwork.com
to subscribe to the nfhs network and catch all the action. You can choose between a $10.99 monthly or $69.00 yearly package. Go Big Red!

Congratulations to Matthew Tarvin on being our Spelling Bee winner. Good Luck at the Region 6 competition.

Dear Community, I am excited and honored to be your Interim Superintendent. I look forward to working with each one of you. Please don't hesitate to reach out to me if I can help you in any way. My door is always open. Together we can make the Marion County School System the best that it can be. Have a great day! Go Eagles! Stuart Gibbo

Drop-Offs for L.K. Moss Afterschool program begin Monday, Nov.1, 2021 The following places are drop off locations: 1.) Marion County Courthouse 2:) Oakland IGA 3:)Morgan's Store in Tazewell 4:) Marion Middle High School If students will be car rider pick ups..Please be at L.K.Moss by 4:45 p.m.


LK Moss Parents and Students: EXTRA, EXTRA Read ALL ABOUT IT!!!!!! Fall Festival is tomorrow we're gonna SHOUT it! Fall Festival will be Friday, October 29th! We will have an awesome blow up obstacle course, tons of games, picture prop, snacks, popcorn, and lots of prizes! Ticket sales began Monday October 25th. Tickets are $0.50 each. Parents will not be allowed to attend due to COVID restrictions. It's going to be an AWESOME time!

Congratulations Summer Starr on your 2nd Place Region Cross Country Meet. Good Luck at the State Meet!!

MAKE A DIFFERENCE FOR L.K. MOSS EVERY TIME YOU SHOP Use the Box Tops app to scan your store receipt, find participating products and instantly add cash to L.K. Moss earnings online. From playground equipment to technology to library books, L.K. Moss can use this money to help teachers and students get the supplies they need.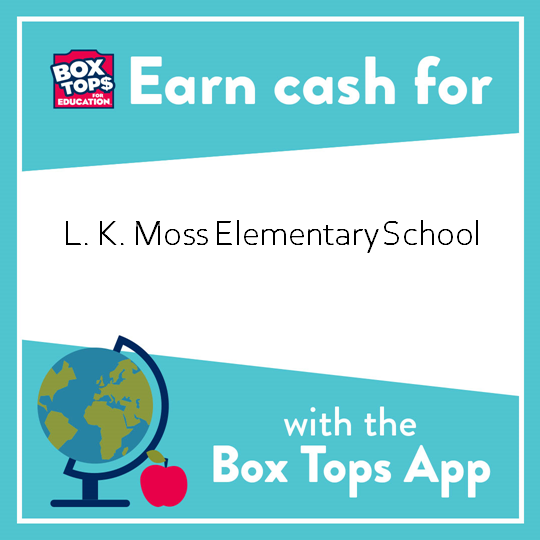 Just finished watching our One Act Play! I wanted to congratulate our cast, crew, and Coach Tara Johnson on a wonderful and entertaining performance.

On behalf of the faculty, staff, and students at Marion County Middle/High School, we would like to invite all military personnel, both active and retired, to the varsity football game on Friday, November 5, 2021. We value your service to our great country and hope you will come be with us. In addition to getting in the game free of charge, you will be recognized at halftime. Please go to the school between now and 12:00 p.m., Friday, November 5, 2021, to pick up your football game ticket. (Complimentary military tickets will not be available at the game.) Thank you again, for your service, and we hope to see you at the game!! GO EAGLES!!

RED RIBBON WEEK: October 25th – 29th. Students can dress up on the days listed in the picture attached. FALL FESTIVAL: This year's Fall Festival is coming. We will have tons of fun games and stations to visit. Some of the exciting things we will be offering are inflatables, popcorn, games, snacks and much, much more! Tickets will be 50 cents each. *We will begin selling tickets on Monday, Oct 25th. Fall Festival will be Friday, October 29th. Parents will NOT be able to attend this event due to COVID restrictions. FALL PARTIES: Friday, October 29-; parties will start @ 12:50 pm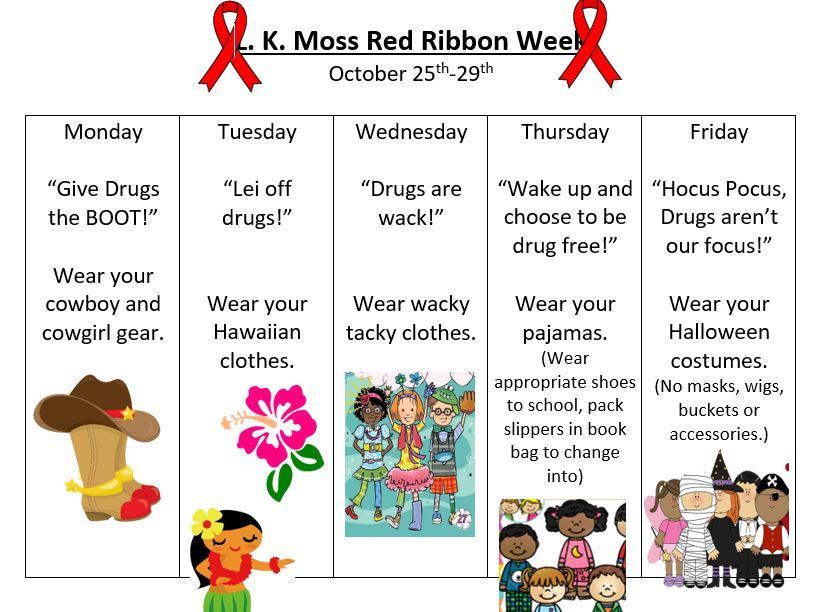 L. K. MOSS PINK OUT DAY: Friday, October 22nd. October is Breast Cancer Awareness Month. Wear "PINK" on this day in observance of breast cancer.

Congratulations to Jasper Currington on his acceptance to Troy University!